Now the Natchez, she's a-comin',
Kicking up her heels,
She's rolling up the river, boys,
How dat make you feel?
Just see the black smoke curlin';
Hear her whistle blow --
Give a cheer 'long the levee,
As you watch her go!
The pilot tells the engineer,
"We's gonna need more steam;
Churning up fast astern
Comes the Delta Queen!"
"Now the Delta Queen's a fine boat;
I'll not deny that, son,
But the Natchez she's a flier,
And I bet this race is won!"
They opened up her fire box door,
Heaved in more hardwood;
The boiler pressure surged up high,
An' her paddles dug in good;
Now the Natchez she's a-flyin',
The spray swept o'er her rail;
The Delta Queen she's turnin' green,
As the Natchez flashed her tail!
The Natchez wheeled into N'Orleans,
Nosed up to the pier;
The deck-crew moored her stem and stern,
'Fore the Delta Queen drew near;
There's a set of antlers mounted
On her pilot house so high;
"The Natchez runs just like a deer,
It's a joy to see her fly!"
(Repeat first verse)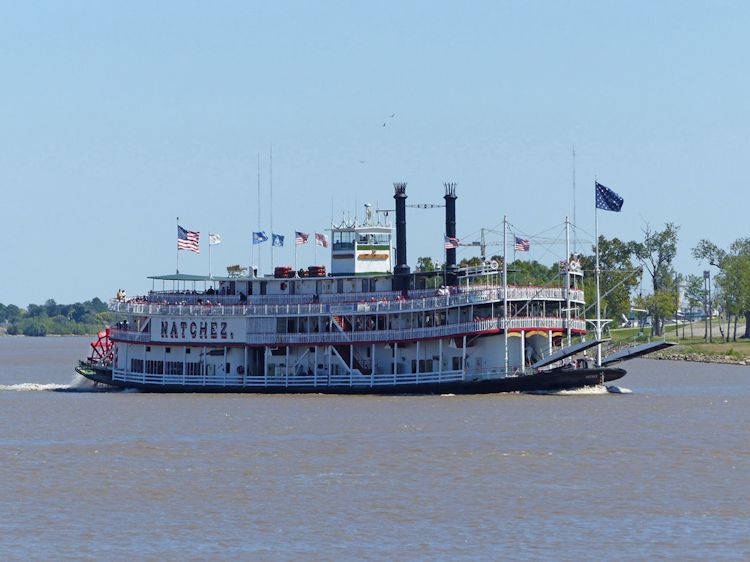 Steamboat Natchez rolling up the Mississippi River, New Orleans, Louisiana, October 4, 2014, photographed by Charlie Ipcar.